The Alpha Plongée Martinique Recipe
Our location on the Caribbean Coast, at Grande Anse d´Arlet,
between the Rocher du Diamant and Anse Dufour allows us to offer you:
20 of the prettiest diving sites in Martinique
4 diving schedules : 7:00 am, 10:00 am, 2:00 pm and 6:00 pm
With
6 instructors State graduates and PADI Instructors
2 boats fully equipped for the activity
1 room </ strong > spacious and comfortable
Add to it
Rich and varied dives
A good dose of knowledge of the environment
And you get the Alpha Plongée Martinique recipe!
And there is something for everyone: beginners, in training or experienced.
A must-see in Martinique
At Alpha Plongée, we attach particular importance to your first immersion. Your first dive must be a magical moment and remain unforgettable. It is hand in hand, alone with your instructor, that you will give your first strokes of the fins in a magical setting. Welcome to the third dimension.
For adults (from 14 years old when diving), we can descend to a depth of 6 meters.
For children, we will adapt the depth according to age: 2 meters between 8 and 10 years old and 3 meters between 10 and 14 years old, as the regulations tell us.
People with disabilities are welcome and we will do our best to share our activity with you.
After a first initiation by the beach during which we will introduce you to breathing underwater, we set off for one of our dive sites. This is where you will do your first dive, which we will personalize according to your wishes.
By the time you exit this first adventure, you will have learned to breathe and observe underwater. And you will have only one desire … to continue!
Offer a first dive
This is the perfect gift that is sure to please… we promise!
We provide you with a voucher with the surname and first name of the person as well as a RIB for the payment (60 €).
All you have to do is contact us to make an appointment: we dive every day at 10:00 am and 2:00 pm.
And off we go for a half-day of pure happiness: initiation by the beach, a little boat, snorkeling on the reef, especially a dive alone with an instructor who will personalize this discovery to make the moment unforgettable!
Beyond the first dive
In the best conditions
Fancy a little more freedom and autonomy? Now is the time to train yourself to scuba dive. We issue both French and international diplomas.
SCUBA DIVER PADI course
A first certification in 3 dives!
The PADI Scuba Diver will allow you to climb up to 12 meters, accompanied by an instructor. From your first training dive, you will learn how to assemble and disassemble your equipment.
Everything ready? So on the way to discover what is the balance underwater because the monitor does not hold you any more!
During these three dives, we will teach you all the simple steps to know to evolve in a group with an instructor.
0-12 meters is the richest part of the Caribbean Sea because the light and the colors are there!
OPEN WATER DIVER course
to acquire all the basics of diving
This is the logical continuation of the Scuba Diver. Unless you are tempted to go directly to this level in 6 dives.
You will have access to a comprehensive e-learning theory course. You will be able to understand all the basics of diving.
This will be an opportunity for you to perfect your stabilization and to discover the instruments that make our diving life easier: parachute, dive computer, compass …
Thanks to the Open Water certification, you can go diving at Diamond Rock and cross the fault: an impressive setting!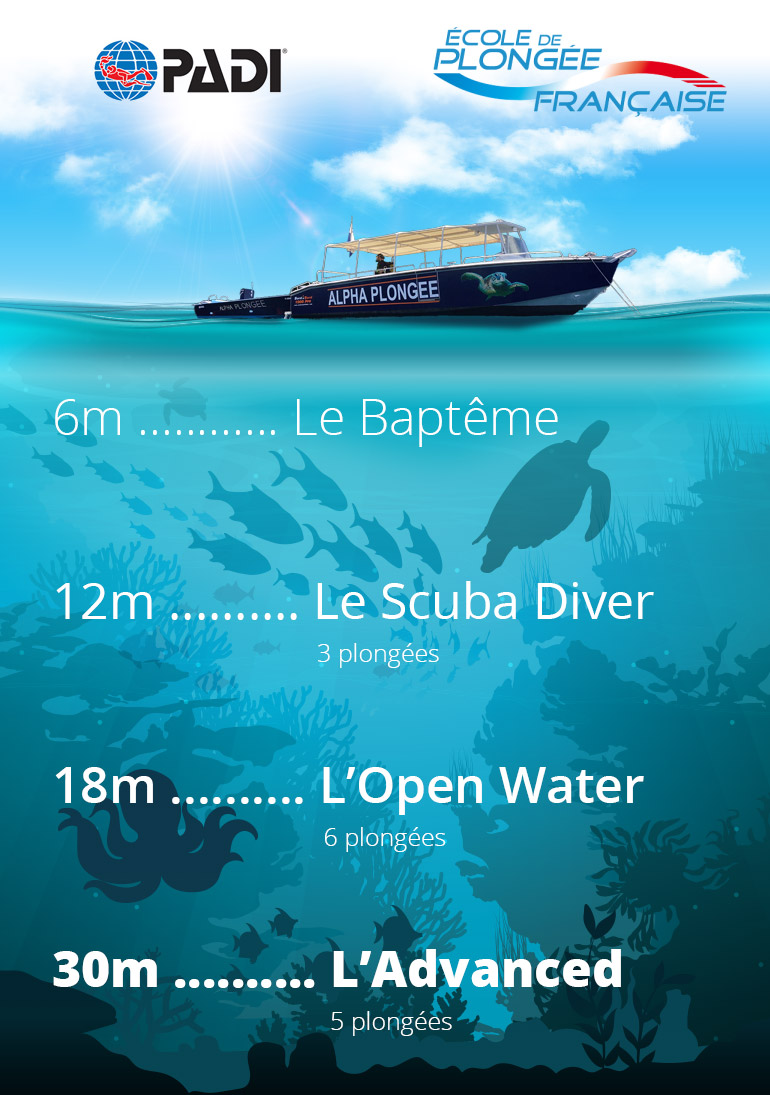 ADVANCED OPEN WATER DIVER course
Discover the many facets of diving
5 "adventure" dives which will allow you to discover new sensations: deep diving (30 meters), orientation, night diving, wreck diving, perfecting your buoyancy, drift diving … < br /> The multitude of sites within our reach, our PADI team and our fast boat will allow us to offer you all these diving themes.
And if you want to go further in a field, we offer courses of PADI SPECIALTIES.
It is after the Advanced Open Water that you can take the Deep Diver specialty course to go up to 40 meters!
RESCUE DIVER course
Become a scuba diver
You have learned the basics of scuba diving … you have discovered different forms of the activity … all you have to do is learn to help the other to become a completely autonomous diver!
Various scenarios will allow us to show you how to help another diver, whether in immersion or as soon as you return to the surface.
First aid, diving assistance and autonomy are on the program of this course which will make you an accomplished diver.
DIVE MASTER
Want to mentor other divers?
To pass from the status of diver to that of diving supervisor, you will have to take the Dive Master course.
2 weeks and 20 dives will allow us to make you taste the joys of our profession: guiding the others underwater.
The Dive Master course is the first step in your professional journey at PADI.
20 dive sites on the Caribbean coast
From Rocher du Diamant to Anse Dufour
1. Anse Dufour (0-25m)
Falling coral that slides on a sandy bottom at 25m. It is a place colonized by beautiful sponges and a multitude of corals: a real spectacle of colors. Look out for seahorses! And if you can't find them, scan the sand for sand urchins…
2. Pointe de la Baleine (0-25m)
Quiet stroll along this rocky scree where it is not uncommon to meet turtles. They often roam in the midst of a very rich and diverse fixed fauna. The drop off is on your left so don't hesitate to look to your right: many schools of fish like cassavas come and go. We often do this drift dive starting from Anse Trois Aires. What a pleasure to be carried by the current…
3. L'Anse 3 Airs (0-15m)
L'Anse Trois Airs offers the possibility of wreck diving as soon as it is baptized. The place owes its name to the ship which ran aground there and which is accessible to the diver, even a beginner. The site is made up of rocks up to 7 meters deep. He then lets discover a sandy beach on which you can see a field of sea urchins.
3. Le Nahoon (25-35m)
This old beacon voluntarily sunk in 1993 on a 35m bottom offers a superb spectacle: barracudas, pagres, lobsters, moray eels… The stroll on the bridge and the visit of the holds will delight you. Have your photo taken at the bar!
4. Anse de la Fortune (0-15m)
Site very well suited for baptisms and the training of beginners. While walking in the canyons which surround the coral potatoes, you will be able to discover squid, trumpet fish, sea urchin colonies and shrimps of all kinds. This is the perfect place to start a diving career!
5. Le Trou du Souffleur (0-35m)
Last site in the series of anchorages at Cap Salomon and a den for barracudas. We always have a light current on this site, an ideal playground for these predators. Whether we go for a walk between sand and rocks for 20 meters or that we follow the scree in 10 meters, we will surely meet Spanish mackerel, trevally and other greedy species…
6. La Piscine de Salomon (0-35m)
Large rocky scree where you will be greeted by a multitude of small fish (sergeant majors, castagnoles….). Don't forget to look into the blue: trevally and king mackerel are often present. Then, slide for about thirty meters to explore pretty coral potatoes. An ideal playground for butterfly fish or limes fish. Look at this blue speckled one: it's the scribbled lime.
7. Cap Salomon (0-40m)
There are many possibilities available to you on this rocky scree. Towards the North, you will reach the Solomon Pool while towards the South, you will discover the Solomon Gardens. But why not stay on the point to watch the big pelagic fish go by. Or, try to poke around in the rocks to find octopus and lobsters.
8. Les Jardins de Salomon (0-30m)
Pretty walk between rocky scree and white sand beaches on which are laid pretty coral potatoes. Many lionfish have found their place there. It sometimes happens, thanks to the current, that you arrive at Solomon's gardens starting from the Swimming pool and passing through the Cape: a very nice drift dive. What if you did it with one of our turtles…
9. Le Tombant de l'Arbre Mort (0-25m)
And what a drop off! You will discover a multitude of corals around which live many small fish. If you do your research, this is where you will meet black triggerfish. Have you put your nose in this little cave lined with giant spiders? Going back to the boat you will not fail to discover a large collection of sand dollars. Take a good look at the gorgonians: the Caribbean coins are lounging there.
10. Le Jardin d'Eden (0-25m)
We are there in a beautiful coral garden. Two solutions are available to us: reach the drop-off further south through the spider cave or simply stroll through this maze of reefs inhabited by thousands of multicolored fish. We will surely meet one of our turtles from Grande Anse who like to meet there.
12. La Lézardette (0-30m)
We are there in a beautiful coral garden. Two solutions are available to us: reach the drop-off further south through the spider cave or simply stroll through this maze of reefs inhabited by thousands of multicolored fish. We will surely meet one of our turtles from Grande Anse who like to meet there.
11. La pointe Lézarde (0-40m)
One of the closest dives to the center and surely one of the most beautiful! It is ideal for rehabilitation because there is rarely any current. Take the opportunity to take a good look in the holes and faults: you will discover punctuated knights, lobsters and serpentines. Let yourself be guided by one of our French angels, but don't forget to look out to sea, we have already seen a leopard ray!
12. La Grotte aux Couleurs (0-15m)
This is our favorite site for you to discover scuba diving. You will walk along a wall covered with sponges, explore the cave lined with colorful sponges and stroll through the small coral garden. Take a good look under the rocks, many diodons have made their home there. Without forgetting the antennae, these toad fish that take on the color of the sponges on which they land: not easy to find!
13. Crique Abricot (0-15m)
After a baptism at the Grotte aux Couleurs, nothing better than this site to start a level of diving: the bottom of the cove will allow you to start gently and the coral garden will be an excellent playground to perfect your balance. All this under the gaze of parrot fish and blue surgeons. What if we ended this dive by going to see the puppet fish on the sand? And for certified divers, it's also the start for the Petites Jorasses!
14. Les Jorasses (0-60m)
Very beautiful relief made of faults, holes and rock clusters without forgetting this wall from 40 meters. The encounters are as surprising as they are unexpected: black or yellow-tailed jacks, turtles, king mackerel, captains. There is something for all tastes and all diving levels. But beware of the current!
15. La pointe Burgos (0-60m)
Lippus, pagres, gorettes, batfish: each school of fish has its place on this set of faults. If you let yourself slide along the point, you will discover an atmosphere where everything seems big and still. Hey, did you see that huge rowan snapper go by?
16. Petite Sirène (0-35m)
Welcome to this magnificent coral garden which offers you the full extent of our Caribbean fauna. Angel fish, box fish, parrot fish… they are all there. It is also a starting point for diving near Pointe Burgos along a pretty drop off where gigantic barrel sponges stand. Did you find the secret passage during your landing?
17. Le Tombant des Anses (40-50m)
For lovers of descent in the blue. You will arrive on a superb coral plateau with, at 40 meters, a nice drop off that will take you over 50 meters. You can observe stingrays there. Remember to take out the landing parachute because the return is in open water!
18. Le Rocher du Diamant (0-55m)
The Diamond Rock and its 175 meters high, is a bird reserve and above all a splendid underwater relief. We'll be sure to take you across the rift that allows you to get inside the Rock. This geological curiosity is a little far from the coast, which can bring you beautiful unexpected encounters … so be careful!
Where to find us?
Our Alpha Plongée center is located on the beach of Grande Anse d'Arlet, about 200m to the right of the pontoon, looking out to sea. We are in the middle of the pedestrian street which runs along the seaside, between the restaurants "Bidjoul" and "Arcades".
If you decide to join us by car, you can park in the large car park which overlooks the road opposite to the grocery store. It is indicated by a large blue sign. To find us, all you have to do is cross the road and slip between two rows of houses.
| | | |
| --- | --- | --- |
| GPS : | | |