The Alpha Plongée Martinique recipe
Our location on the Caribbean coast, in Grande Anse d'Arlet, between the Diamond Rock and Anse Dufour, we can offer you :
20 of the most beautiful dive sites in Martinique 4 dive times: 7am, 10am, 2pm and 6pm With 6 state qualified instructors and PADI Instructors 2 boats fully equipped for the activity 1 spacious and comfortable room Add to this Rich and varied dives A good dose of knowledge of the environment And you get the Alpha Plongée Martinique recipe! And there is something for everyone: beginners, trainees or experienced divers.
A must-see in Martinique
At Alpha Plongée, we attach particular importance to your first dive. Your first dive must be a magical moment and remain unforgettable. Hand in hand, alone with your instructor, you will make your first fin strokes in a magical setting. Welcome to the third dimension. For adults (from 14 years old), we can go down to a depth of 6 meters. For children, we will adapt the depth according to their age. People with disabilities are welcome and we will do our best to share our activity with you. After a first initiation on the beach, during which we will introduce you to underwater breathing, we will embark for one of our diving sites. It is there that you will make your first dive, a dive that we will personalise according to your wishes. At the end of this first adventure, you will have learned to breathe and to observe underwater. And you will only have one desire… to continue!
Give the gift of a first dive
It's the ideal gift that's sure to please… and that's our commitment to you!
We will provide you with a voucher with the person's first and last name and a bank details slip for payment.
All you have to do is contact us to make an appointment: we dive every day at 10am and 2pm.
Then it's off for a half-day of pure bliss: an introduction on the beach, a bit of boating, snorkelling on the reef and, above all, your first dive, a dive on your own with an instructor who will personalise the experience to make it unforgettable!
Beyond the first dive
Beyond the first diveIn the best conditions
Want a little more freedom and autonomy? Then it's time to train to dive. We deliver both French and international diplomas.  
SCUBA DIVER PADI Course
A first certification in 3 dives!
The PADI Scuba Diver will allow you to dive to 12 metres, accompanied by an instructor. From your first training dive, you will learn to assemble and disassemble your equipment. All set? Then let's go and discover what it means to balance underwater because the instructor won't hold you anymore! During these three dives, we will teach you all the simple gestures to know to evolve in group with an instructor. 0-12 metres is the richest area of the Caribbean Sea because the light and colours are there!  
OPEN WATER DIVER course
to learn all the basics of diving
It is the logical continuation of the Scuba Diver. Unless you are tempted to take this level directly in 6 dives. You will have access to a very complete e-learning theory course. You will be able to understand all the basics of diving. This will be an opportunity for you to perfect your stabilisation and to discover the instruments that make life easier when diving: parachute, dive computer, compass, etc. Thanks to the Open Water certification, you will be able to go diving at the Diamond Rock and cross the fault: an impressive scenery!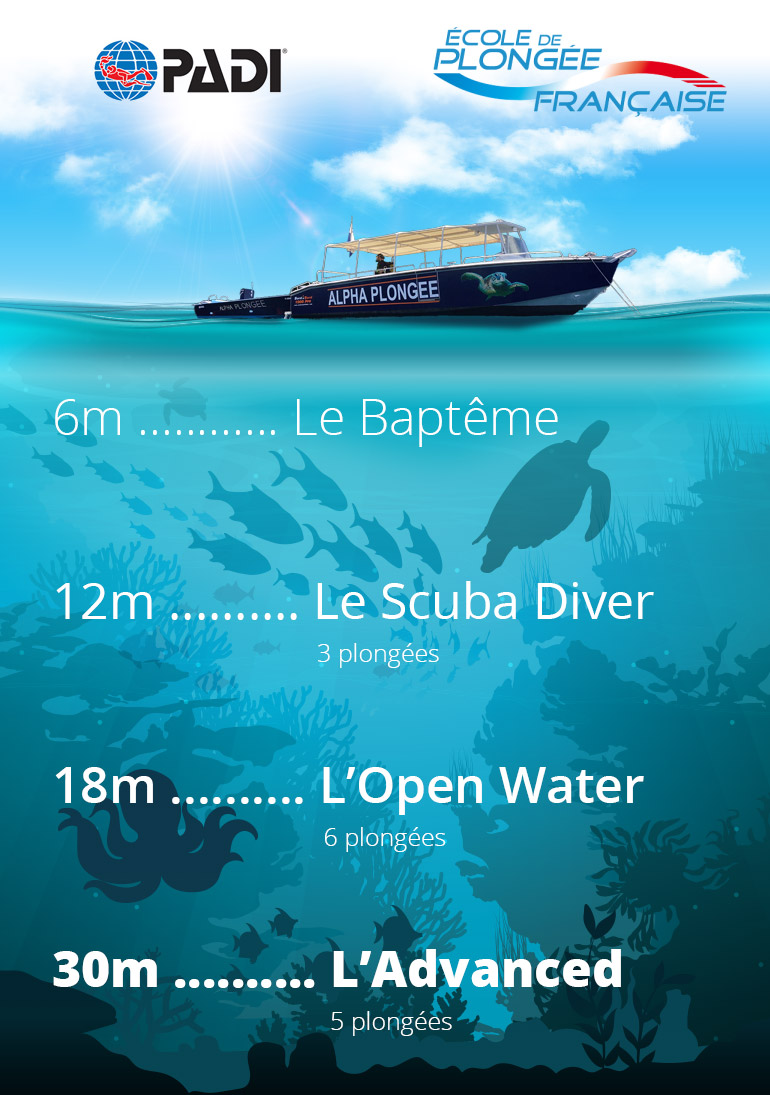 Cours ADVANCED OPEN WATER DIVER
Discover the many facets of diving
5 "adventure" dives that will allow you to discover new sensations: deep diving (30 meters), orientation, night diving, wreck diving, improving buoyancy, drift diving … The multitude of sites within our reach, our PADI team and our fast boat will allow us to offer you all these diving themes. And if you wish to go further in a particular field, we offer you PADI SPECIALTIES courses. After the Advanced Open Water, you can take the Deep Diver Specialty course to go up to 40 meters!
RESCUE DIVER course
Become a scuba diver
You have learned the basics of scuba diving … you have discovered different forms of the activity … now you just have to learn how to help another diver to become a completely autonomous diver! Various scenarios will allow us to show you how to help another diver, whether it be while immersed or when you return to the surface. First aid, dive assistance and autonomy are on the agenda of this course which will make you an accomplished diver.
DIVE MASTER
Would you like to supervise other divers?
To go from being a diver to a dive leader, you will have to follow the Dive Master course. Two weeks and 20 dives will allow us to give you a taste of the joys of our profession: guiding others underwater. The Dive Master course is the first step in your career with PADI.
20 dive sites on the Caribbean coast
From Diamond Rock to Anse Dufour
Where to find us?
Our Alpha Plongée centre is located on the beach of Grande Anse d'Arlet, about 200m to the right of the pontoon, looking out to sea. We are in the middle of the pedestrian street that runs along the seafront, between the restaurants "Bidjoul" and "Les Arcades". If you decide to join us by car, you can park in the large car park which overlooks the road opposite the grocery shop. It is indicated by a large blue sign. To find us, you just have to cross the road and slip between two rows of houses.
138 rue Robert Deloy – Plage de Grande Anse 97217 LES ANSES D'ARLET.