Diving at the Whale Point
– Martinique (0-25m)
Scuba diving at the Whale Point is ideal for divers of all levels. This site offers a different scenery at each landing, with a coral garden, a nice drop off and a rocky scree.
And believe it or not, the site is not named that by chance. At Alpha Plongée Martinique, we have already observed a real whale and we were charmed by the song of this incredible marine mammal.
Shall we tell you about it? Come on, follow us!
What is the Pointe de la Baleine in Martinique?
Pointe de la Baleine is located between Cape Solomon and Anse Dufour in the south of the island. The site is also home to the wreck of the Nahoon, which we really recommend you to discover. Pointe de la Baleine offers a gentle slope, with a very jagged relief and a nice drop off which ends on a sandy plateau at a depth of about 25 metres.
What level to dive at Pointe de la Baleine?
Pointe de la Baleine is the place to be for any diver who dreams of swimming with turtles. Whether you are a beginner or an experienced diver, the site offers a tranquil dive, which we are often used to drift diving.
Pointe de la Baleine can be enjoyed for snorkeling, for your first dive and for all French and PADI levels.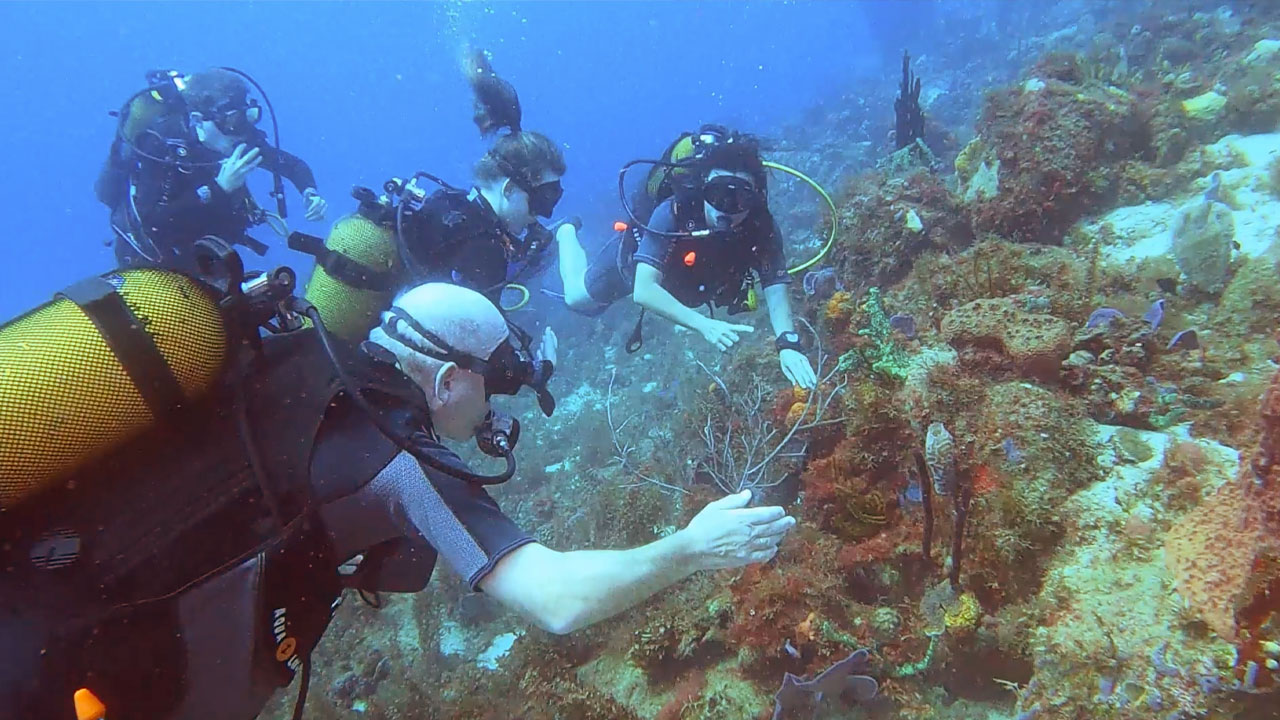 What does it mean to drift dive?
Drift diving means letting yourself be carried along by the current instead of moving against it. It is a dive that is not tiring and allows you to drift quietly to admire the underwater landscape.
You let yourself be carried along and dive with the current, without too much effort, and you can cover up to several kilometres.
This practice supposes to follow our advice to stay with the group.
What can you see while diving at the Whale Point?
Expect to be amazed and it starts as soon as you get in the water!
The start of the dive is the opportunity for us to "fly" into the schools of castagnoles and sergeant majors.
The sergeant majors are fish with black vertical stripes. This species has a funny peculiarity. All the fish are born male and it is while growing up that some of them become female. It is therefore a hermaphrodite fish. It is the males who look after the eggs that form a large purple patch on the rocks. And if you get too close, the male changes colour and becomes darker to let you know that he is on guard!
At the Whale Point it is not uncommon to see our dive centre's mascot, the turtle. Turtles often come to lay their eggs near the site and can be seen grazing peacefully. Along the drop off you can see colourful corals. The site is also ideal for watching moray eels and lobsters.
But what about the whale?
Do we see whales at Pointe de la Baleine in Martinique?
Yes, you can see whales at Pointe de la Baleine! At Alpha Plongée, we have already seen one, notably in February. This is the ideal period, between December and June, to see them. Indeed, the humpback whale migrates once a year to the West Indies. They make the long two-month journey from the cold waters of Antarctica to give birth in our warm, calm waters.
To encounter a whale while scuba diving is an absolutely magical and unforgettable moment. Just imagine: the whale can measure up to 15 metres in length and weigh almost 20 tonnes. This means that the whale will not go unnoticed.
The whale is a protected species and unfortunately endangered. In Martinique, the Agoa sanctuary, in the north of the island, works to protect this majestic marine mammal. In order to preserve it, our diving centre scrupulously respects the regulations in force and does not come closer than 300 metres.
But even at a distance, you will be under the spell of the whales and if you listen carefully, you can even hear them sing.
How to go diving at the Whale Point?
To get to the Whale Point site, it only takes 12 minutes by boat from our Alpha Plongée Martinique centre in Anses d'Arlet.
The advice of the ALPHA DIVING team
For the more experienced (Advanced level and above), we have a nice rock to show you at 25 metres: it is entirely covered with anemones!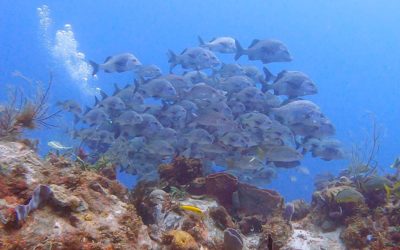 Diving at Burgos Point - Martinique (15-60m)The Burgos Point is one of the most beautiful dive sites on the Caribbean coast that should not be missed. It is also the perfect site to go and meet schools of large peaceful fish, such as lippus or pagres.What is Burgos...
read more
Where to find us?
Our Alpha Plongée centre is located on the beach of Grande Anse d'Arlet, about 200m to the right of the pontoon, looking out to sea. We are in the middle of the pedestrian street that runs along the seafront, between the restaurants "Bidjoul" and "Les Arcades".
If you decide to join us by car, you can park in the large car park which overlooks the road opposite the grocery shop. It is indicated by a large blue sign. To find us, you just have to cross the road and slip between two rows of houses.
Alpha Plongée Martinique
We look forward to seeing you.
138, Avenue Robert Deloy – Plage de Grande Anse
97217 LES ANSES D'ARLET